Customization Realistic animatronic coala model for theme park.
This animatronic adult coala animal model holding a camera, as if its the photographer and taking photos of humans.Equipped with a camera model.Customize the appearance of the animatronic coala model to suit the theme of your event or exhibition. From a charming cartoonish style to a sleek and modern design, we can tailor it to match your vision perfectly.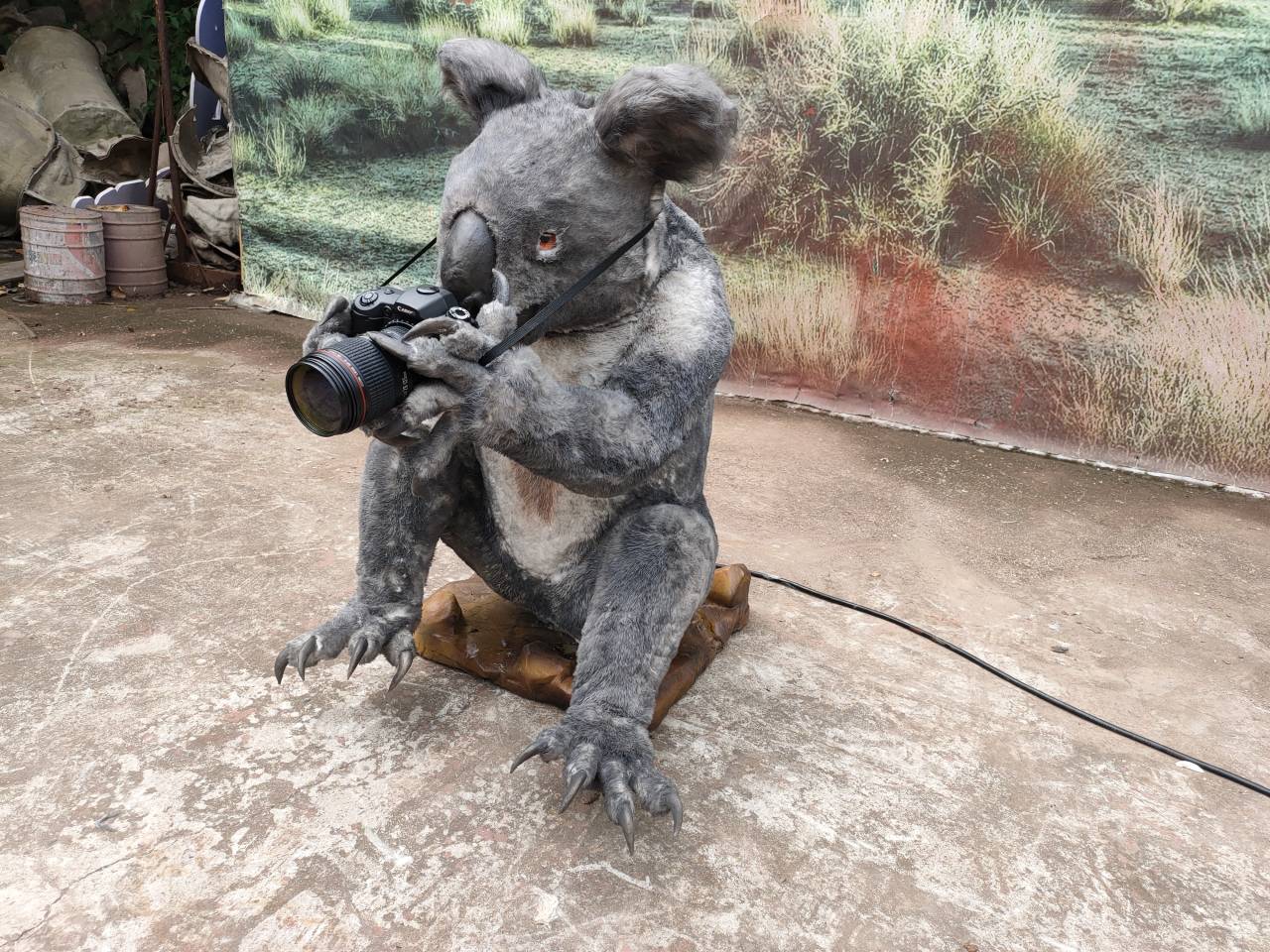 Customization Realistic animatronic coala model for theme park
Movements:
1. mouth open and close with sounds
2. eyes blink
3. head up and down,left to right
4. neck up and down,left to right
5. chest raises / falls to mimic breathing
6. tail sway
Additional Movement:
7.water spray
8. smoke spray

9. tongue moves in and out
10. walking
Realistic animatronic deer model for exhibition
1.Size: life size or customized
2.Price:US$1000~4000/piece

3.Min.Order Quantity:1 piece

4.Lead time:20 days or depends on order quantity

5.Power:110/220V, AC, 200-800W.

6.Color:Any color is available.Customers can customize all kinds of animals

Note:All the animal models can be customized according to your requirements. Inquire now to see how we can help with your project.

Main Materials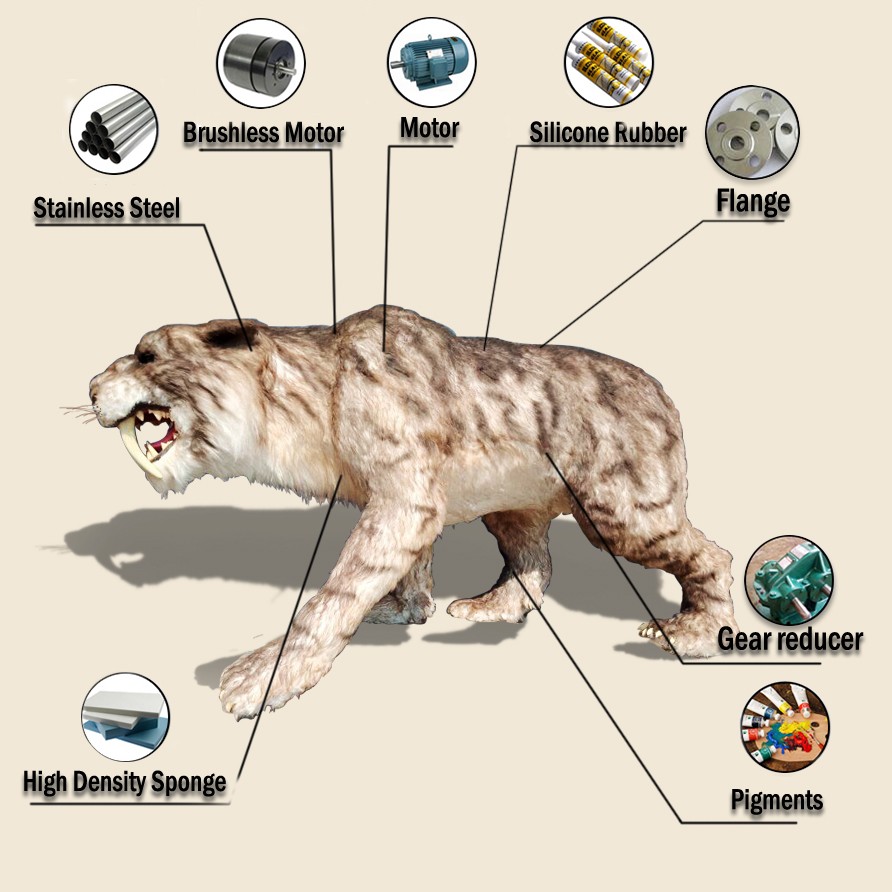 Main materials:
1.Stainless steel frame
2.CE proved brush or brushless motors
3.High quality Silicone Rubber
4.High Density sponge
5.Hand drawings

6.Artificial fur
Note:All our animals' materials have the necessary corresponding certificates, such as CE, UL, ISO9001:2008, and reached excellent environmental protecting standards.we can also choose the new materials according to your requirements.
Accessories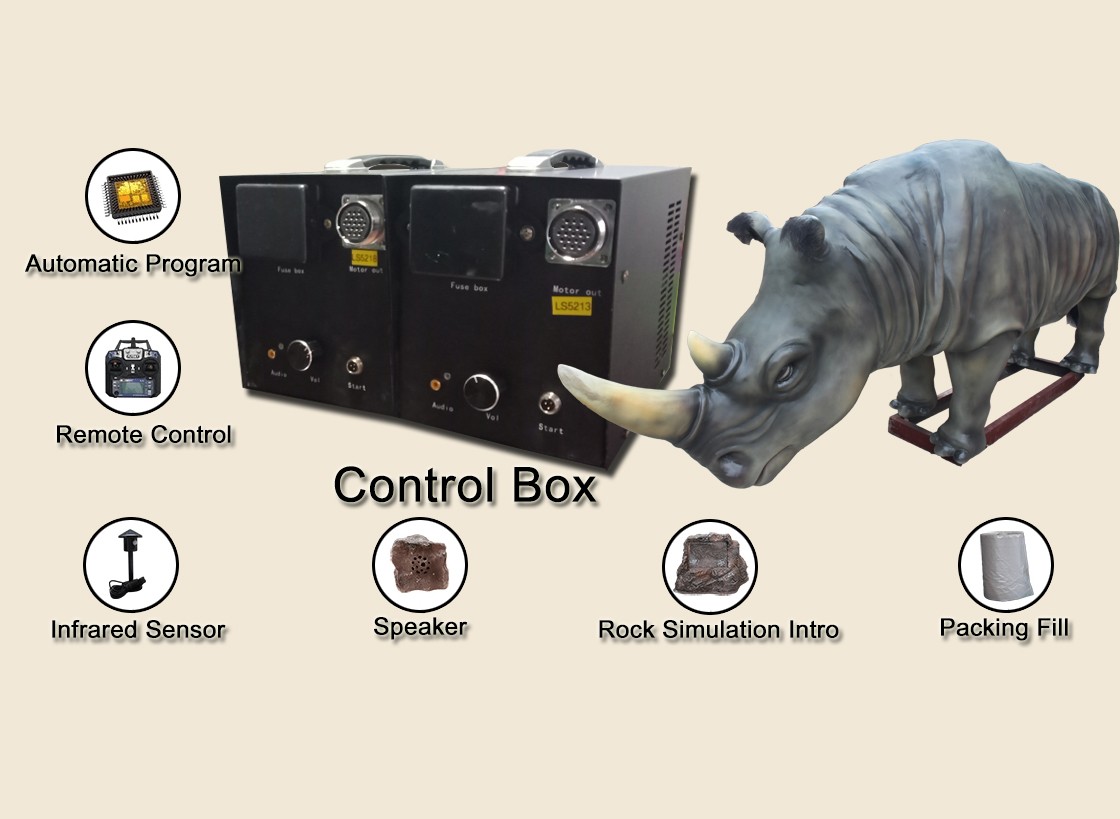 1.Control box in rockery

2.Infrared Sensors
3.Speaker in rockery
4.Fiberglass rockery
5.Plug(for different countries)
6.Introduction
7.Fuse box(backup at horizontal position)
These are our main accessories. we can also provide other accessories according to your requirements, such as :coin box, artificial trees,led lights,background painting and much more!
Usage
An animatronic koala model can have various uses in different settings due to its lifelike and interactive features. Here are some potential applications for an animatronic koala model:
1.Educational Displays;
2.Wildlife Conservation Awareness
3.Themed Entertainment
4.Photography and Film:
5.Science Communication:
6.Special Events
7.Marketing and Advertising
8.Therapeutic Purposes:
Certificate:
:
FAQ
1.Q:What is an animatronic koala model?
A:An animatronic koala model is a lifelike replica of a koala that uses advanced robotics and animatronics technology to mimic the movements and behaviors of real koalas.
2.Q:What materials are used to make the animatronic koala model?
A:The main materials are silicone, foam, artificial fur and lightweight metals to achieve a realistic appearance and ensure longevity.
3.Q:Can the animatronic koala model move and make sounds?
A:Yes, the animatronic koala model is designed to move its head, eyes, ears, mouth, and limbs realistically. It can also emit sounds similar to those made by real koalas.
4.Q:How is the animatronic koala model powered?
A:The model is typically powered through a direct power source. The power voltage is customized according to your country power standard.
5.Q:Can the animatronic koala model be customized?
A:Yes, some animatronic koala models can be customized in terms of appearance, movements, and sounds to meet specific requirements.
6.Q:Where can I see the animatronic koala model in person?

A:This kind of animatronic animals models may be displayed in museums, zoos, educational centers, wildlife exhibits, or themed entertainment venues.