Life size real animatronic panda animal model for exhibition
This animatronic panda paste with artificial fur and seems like it is play the trojan horse and make it portrait.Our animatronic panda model is an exquisite masterpiece,every detail has been meticulously crafted to create a lifelike representation that will astonish and delight your guests. Equipped with advanced sensor technology, it will begin moving responds to the presence of your visitors.Foster a deeper understanding of these animatronic animal creatures and their conservation needs through our animatronic panda model.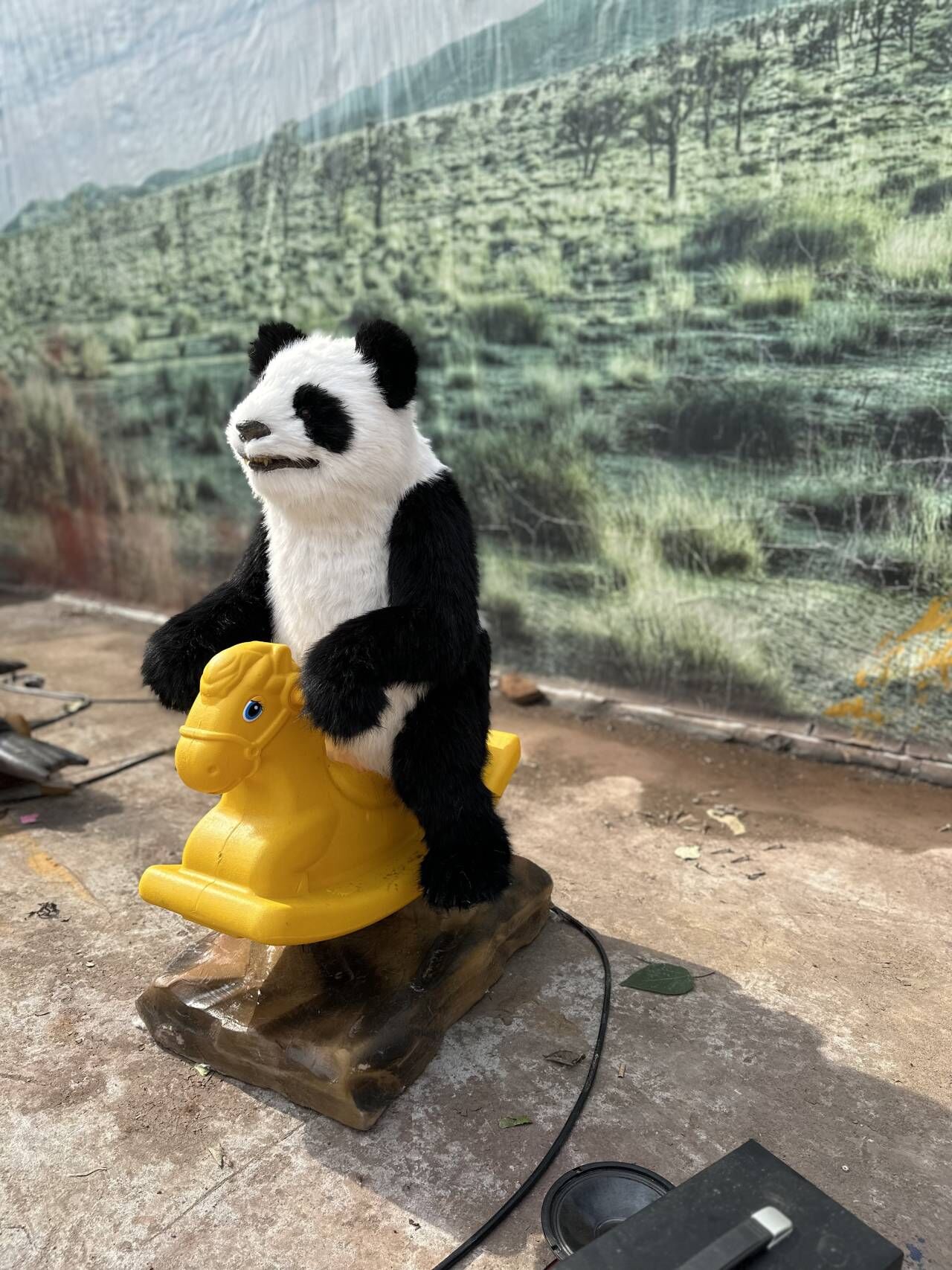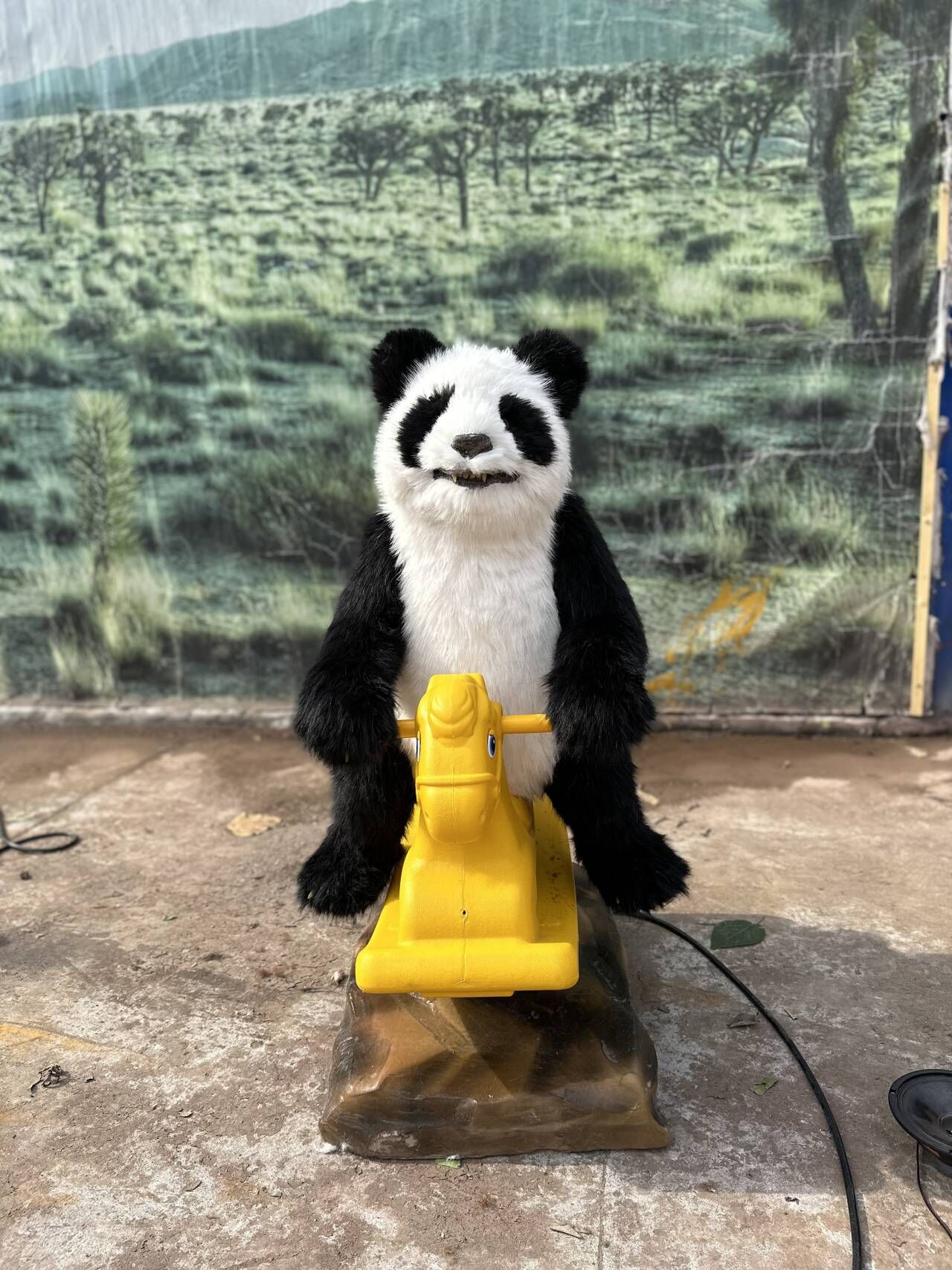 Life size real animatronic panda animal model for exhibition
Movements:
1. mouth open and close with sounds
2. eyes blink
3. head up and down,left to right
4. neck up and down,left to right
5. chest raises / falls to mimic breathing
6. tail sway
Additional Movement:
7.water spray
8. smoke spray

9. tongue moves in and out
10. walking
Realistic animatronic deer model for exhibition
1.Size: life size or customized
2.Price:US$1000~4000/piece

3.Min.Order Quantity:1 piece

4.Lead time:20 days or depends on order quantity

5.Power:110/220V, AC, 200-800W.

6.Color:Any color is available.Customers can customize all kinds of animals

Note:All the animal models can be customized according to your requirements. Inquire now to see how we can help with your project.

Main Materials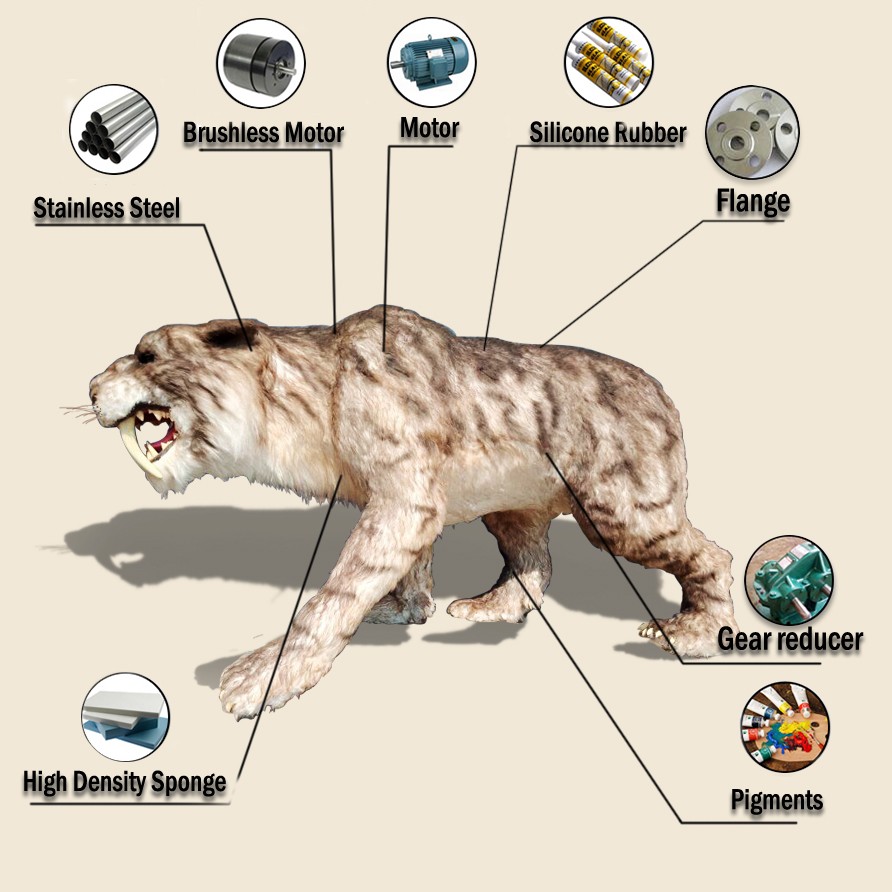 Main materials:
1.Stainless steel frame
2.CE proved brush or brushless motors
3.High quality Silicone Rubber
4.High Density sponge
5.Hand drawings

6.Artificial fur
Note:All our animals' materials have the necessary corresponding certificates, such as CE, UL, ISO9001:2008, and reached excellent environmental protecting standards.we can also choose the new materials according to your requirements.
Accessories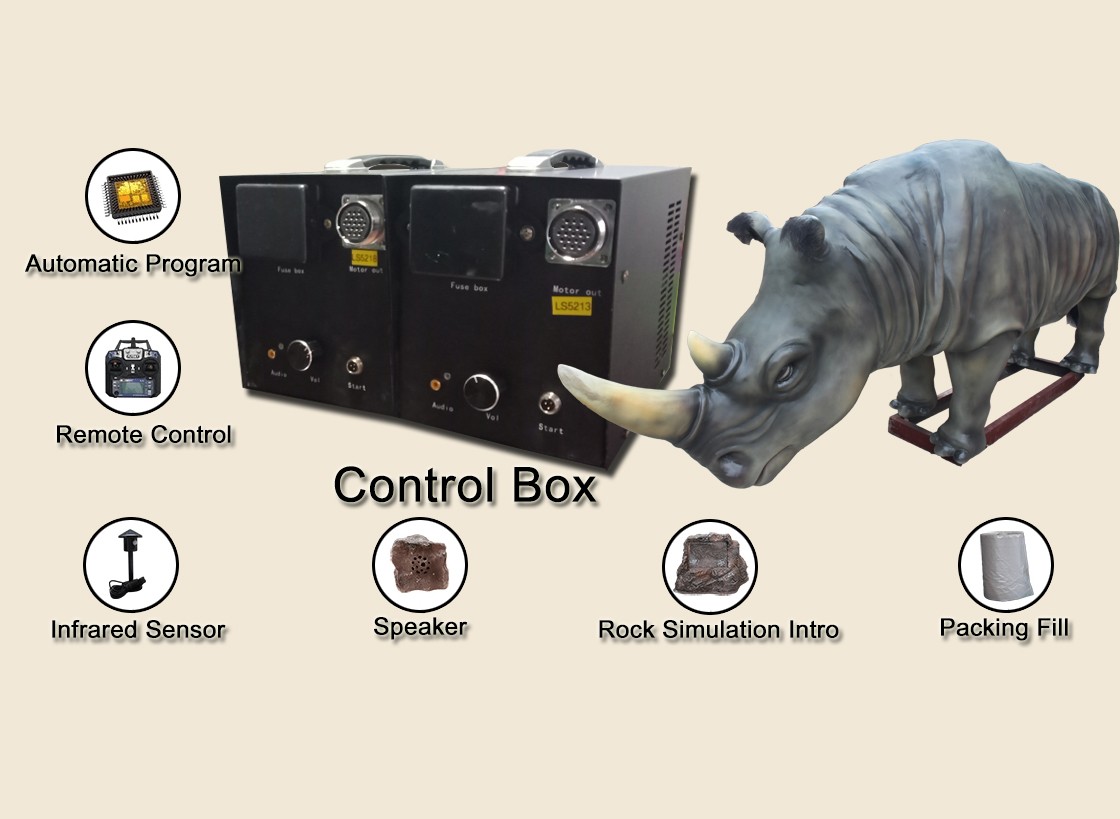 1.Control box in rockery

2.Infrared Sensors
3.Speaker in rockery
4.Fiberglass rockery
5.Plug(for different countries)
6.Introduction
7.Fuse box(backup at horizontal position)
These are our main accessories. we can also provide other accessories according to your requirements, such as :coin box, artificial trees,led lights,background painting and much more!
Usage
A life-size real animatronic panda animal model can be a captivating and engaging exhibit for various types of exhibitions. The lifelike and interactive features of the model make it a valuable educational and entertainment tool. Here are some potential usages of a life-size real animatronic panda animal model for exhibition:
1.Wildlife Education: The animatronic panda model can be used in wildlife-themed exhibitions to educate visitors about pandas, their natural habitat, diet, behavior, and conservation status. It offers an immersive experience that fosters a deeper understanding and appreciation for these endangered animals.
2.Zoo and Nature Center Displays: Zoos and nature centers can incorporate the animatronic panda model as part of their educational programs. It provides an opportunity for visitors to observe a lifelike panda up close, even if real pandas are not present in the zoo.
3.Panda Conservation Awareness: The animatronic panda can serve as a powerful ambassador for panda conservation efforts. It can be displayed in public spaces or events to raise awareness about the threats faced by pandas and the importance of preserving their habitats.
4.Interactive Learning: The animatronic panda model can be designed with interactive features, such as touch-screen displays or buttons, to provide visitors with information about pandas, their behaviors, and conservation efforts.
5.Photo Opportunities: Visitors can have their photos taken with the animatronic panda model, creating memorable and shareable experiences. This can enhance engagement with the exhibition and generate interest on social media.
6.Themed Entertainment: In wildlife-themed attractions or theme parks, the animatronic panda can be a central feature of an immersive and entertaining experience, delighting visitors of all ages.
7.Science Communication: In science centers or educational exhibits, the animatronic panda model can help communicate complex scientific concepts in a visually engaging and accessible manner.
8.Film and Television Production: The animatronic panda model can be used in film and television productions as a realistic stand-in for real pandas, offering filmmakers a controlled and safe alternative for capturing panda-related scenes.
9.School and Educational Programs: The animatronic panda model can be incorporated into educational programs for schools, providing students with a unique and memorable learning experience.
10.Research and Study: The animatronic panda model can be used in scientific research settings to study panda behaviors and interactions, without disturbing real pandas in their natural habitats.
Certificate:
:
FAQ
1.What is a life-size real animatronic panda animal model?

A life-size real animatronic panda animal model is a highly realistic replica of a panda that utilizes advanced robotics and animatronics technology to mimic the movements, sounds, and behaviors of real pandas.

2.What materials is the animatronic panda model made of?
The model is constructed using high-quality materials, such as silicone, foam, artifical fur and lightweight metals, to achieve a lifelike appearance while ensuring durability.
3.Does the animatronic panda model make sounds?
Yes, the model is designed to produce realistic sounds, including vocalizations and expressions similar to those made by real pandas.
4.How is the animatronic panda model operated?
The model is typically operated by a remote control or pre-programmed system, allowing operators to activate various movements and sounds for an interactive experience.
5.Can visitors touch or interact with the animatronic panda model?
Depending on the exhibition rules and design, some animatronic panda models may allow limited interaction or touch for a more immersive experience.

6.How is the animatronic panda model powered?
The model is powered by rechargeable batteries or through a direct power source, designed to ensure smooth and continuous operation.