Entertainment animatronic walking dragon ride model for sale
Animatronic dinosaur Rides
Entertainment animatronic walking dragon ride model for sale
Movements:
1. mouth open and close with sounds
2. eyes blink
3. head up and down,left to right
4. neck up and down,left to right
5. forelimbs move
6. body moving around
7. tail sway
Additional Movement:
9. water spray
10. smoke spray

11. wings flap
12. tongue moves in and out
13. walking
Entertainment animatronic walking dragon ride model for sale
1.Size: life size or customized
2.Price:US$2000~3000/piece

3.Min.Order Quantity:1 piece

4.Lead time:20 days or depends on order quantity

5.Power:110/220V, AC, 200-800W.

6.Color:Any color is available.Customers can customize all kinds of dinosaurs

Note:All the dinosaurs can be customized according to your requirements. Inquire now to see how we can help with your project.

Main Materials
Main materials:
1.Stainless steel frame
2.CE proved brush or brushless motors
3.High quality Silicone Rubber
4.High Density sponge
5.hand drawings

Note:All our dinosaur/dragon rides' materials have the necessary corresponding certificates, such as CE, UL, ISO9001:2008, and reached excellent environmental protecting standards.we can also choose the new materials according to your requirements.
Accessories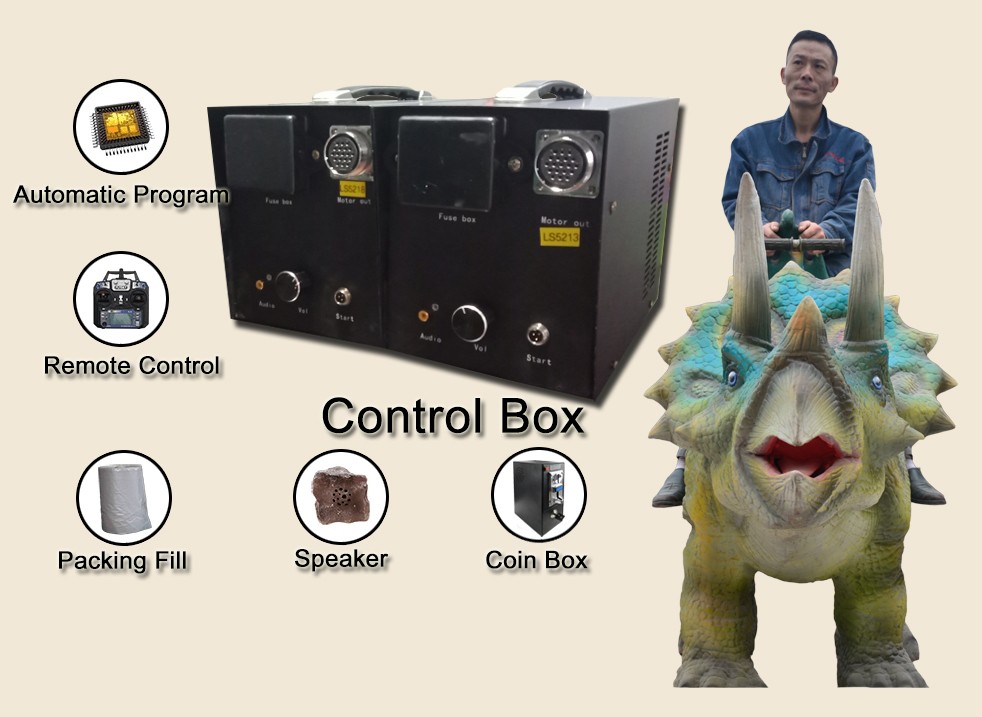 1.Control box in rockery

2.Coin box
3.Speaker in rockery
4.Fiberglass rockery
5.Plug(for different countries)
6.Introduction
7.Fuse box(backup at horizontal position)
These are our main accessories. we can also provide other accessories according to your requirements, such as :artificial trees,led lights,background painting and much more!
About Coin box: you can set time and type of coins by yourself.
Usage
Attraction and promotion:1.amusement park ,2.theme park,3.museum ,4.playground,5.city plaza ,6.shopping mall,7.other indoor /outdoor venues.
:
FAQ
1.Q:What is Minimum order quality?
A: 1 unit.


2.Q:How does it operation?


A:coin operation,remote control or scan code operation are avaible.It is battery operation,it can last around 4 hours after full charge.It takes around 4-5 hours for charging again.


3.Q:Do you have more styles?
A:Actually, YES! More dinosaur ride models styles are avaible,customzation service is supported.Can also produce animals ride models,you can email us which items you are interested in.
4.Q:How about the payment term?

A:50% advance payment after confirm the order,will send pictures and videos for confirmation during the production process.The balance should be paid before shipping.

5.Q:How can we place the order?
A:Please Email us your preferred item No. Quotation will be offered ASAP.
Certificate: