Animatronic Dinosaur: A Lifelike Experience of the Prehistoric Era
Dino Walk, one of the leading Animatronic Dinosaurs Manufacturer, offering a fascinating glimpse into the world of dinosaurs with their life size dinosaur replicas. These animatronic dinosaurs are created with advanced technology and incredible attention to detail, resulting in a realistic and immersive experience that will transport you back to the prehistoric era.
The animatronic dinosaur uses high technology to turn a static dinosaur model into a movable dinosaur. It uses steel frame,high density sponge and silicone rubber to create a realistic appearance, shape, and movement based on the computer-recovered pictures of dinosaur fossils.

As a professional animatronic dinosaur manufacturer, Dino walk offers the giant realistic Dinosaur replica, providing animatronic dinosaur models build and after-sale service. Welcome to contact us.

Animatronic Dinosaur Features
◆Certain machinery is installed inside.
◆Animatronic dinosaurs can move.
◆The appearance, shape, and movements are all very real.
◆The shape is lifelike and the movements are vivid, just like real dinosaurs.
◆The animatronic dinosaur's skin will be more durable. Anti-corrosion, good waterproof performance, high or low-temperature resistance.
◆We are willing to customize products according to customers' preferences, requirements, or drawings.
The animatronic dinosaurs are crafted by a team of skilled professionals who use high-quality materials and cutting-edge technology to create an incredibly lifelike appearance. From the texture of the skin to the movements of the limbs, every aspect of the dinosaur is meticulously crafted to provide an accurate representation of these majestic creatures.

Animatronic Dinosaur Parameters
Size:From 1m to 30m long, other size is also available.
Net Weight:Determined by the size of the dinosaur (eg: 1 set 10m long T-rex weighs close to 550kg).
Color: Any color is available.
Accessories: Control cox, Speaker, Fiberglass rock, Infrared sensor, etc.
Lead Time:15-30 days or depends on quantity after payment.
Power: 110/220V, 50/60hz or customized without extra charge.
Min. Order Quantity: 1 Set.
After Service:12 Months after installation.
Control Mode: Infrared sensor, Remote control, Token coin operated, Button, Touch sensing, Automatic, Customized, etc.
Usage: Dino park, Dinosaur world, Dinosaur exhibition, Amusement park, Theme park, Museum, Playground, City plaza, Shopping mall, Indoor/outdoor venues.
Main Materials: High-density foam, National standard steel frame, Silicon rubber, Motors.
Shipping: We accept land, air, sea transport, and international multimodal transport. Land+sea(cost-effective) Air(transport timeliness and stability).
Movements: 1. Eyes blinking. 2. Mouth open and close. 3. Head moving. 4. Arms moving. 5. Stomach breathing. 6. Tail swaying. 7. Tongue Move. 8. Voice. 9. Water spray.10. Smoke spray.
Notice: Slight differences between the objects and the pictures because of handmade products.
Animatronic Dinosaur Application
Animatronic dinosaurs are suitable for various occasions, such as Dinosaur parks, Zoo parks, Theme parks, Amusement parks, Restaurants, Business activities, Real estate opening ceremonies, Playground, Shopping malls, Educational equipment, Festival exhibition, Museum exhibition, City plaza, Landscape decoration, etc.

Dinosaur Simulation Model by Dino Walk is the perfect addition to museums, theme parks, and other attractions, providing visitors with an interactive and educational experience. These life-size animatronic dinosaurs are designed to move, roar, and even breathe, making them an impressive sight for both children and adults.

Dino Walk's animatronic dinosaurs are not only entertaining but also educational. Visitors can learn about the history and behavior of these creatures, and even interact with them in a safe and controlled environment. With their impressive size and lifelike movements, these dinosaur simulation models are sure to leave a lasting impression on anyone who experiences them.

Dino Walk's Animatronic Dinosaurs Manufacturer have created an incredible experience that combines entertainment and education in a unique and exciting way. With their life-size dinosaur replicas and dinosaur simulation models, they are taking visitors on an unforgettable journey to the prehistoric era.

The realistic animatronic dinosaurs can be applied to movie special effects and other exhibition activities. The rich and colorful activities have brought people a fresh and fun paradise, and they can also understand the scenes of dinosaur families thriving, and encourage the general public learning more about dinosaurs. The audience loves animals and protects the earth's ecological environment.Get a free quotation.

FAQ
1.What is animatronic dinosaur model?
Animatronic dinosaur model is life size dinosaur replica according to real dinosaur fossil,which is made from steel frame,high density sponge,silicone rubber.Animatronic dinosaur models combine electronic and mechanical components, enabling them to show various actions, such as roaring, blinking eyes,opening mouth,turning heads,moving limbs, breathing,swaying tail and more actions.
2.What is application of animatronic dinosaur models?
Animatronic dinosaurs models are mostly used in museums,theme park,shopping center,exhibitions,event,entertainment settings and others eduacational.
3.How to order animatronic dinosaurs models?
You can call us or email us if you are interested in our animatronic dinosaurs models,will send you relative products information for reference and introduce products information as much details as possible.After confirming products,price,and all details,you pay advance payment then we will begin production.Will send you pictures and videos for confirmation during the production process.Balance should be paid before delivery after inspection.
4.Can animatronic dinosaurs models be customized?
Yes,customization serive is supported.You can send you designs,your ideas or your prefer dinosaurs pictures for customization.Every production step will be sent to you to ensure to provide you satisfied products.
5.Which accessorie are included for animatronic dinosaurs?
*Control box in rockery
*Infrared Sensors
*Speaker in rockery
*Fiberglass rockery
*Plug(for different countries)
*Introduction
*Fuse box(backup at horizontal position)
*Some repair materails are provided.
6.How to install animatronic dinosaur models?
We will provide you video call for intructing.We can also send our professional installation team to your country for installation.
7.How long the production time and shipping time?
Depends on the order,normal take 15-20 days,urgent can be rush in 10 days.Shipping time:By air (5-10days),by sea (30-40days),by train(20-30days).
Animatronic Dinosaur Model Projects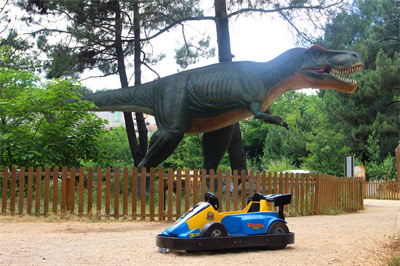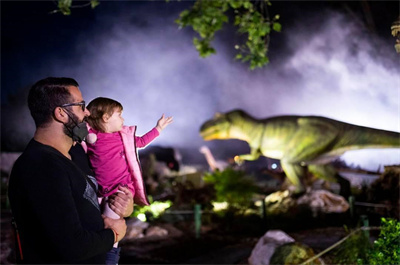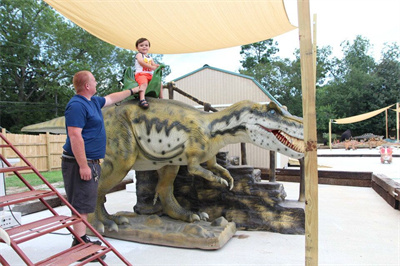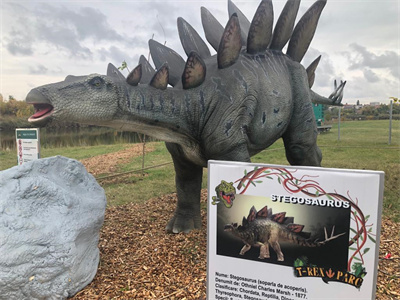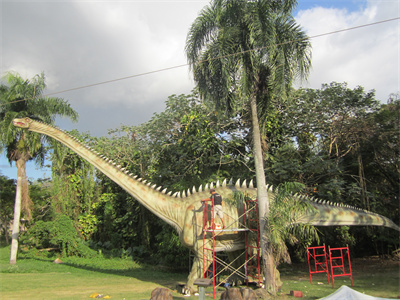 We'd Love to Hear from You
Whether you'd like to get more info on what, why and how we do what we do, need help with what you're creating, would like to partner up or just say hi! --- we'd love to hear from you.