giant dragonfly animatronic insect model
Animatronic Insects
Movements:
1. head up and down,left to right
2. neck up and down,left to right
3.wings moving
Additional Movement:
9. water spray
10. smoke spray

11. tongue moves in and out
12. walking
high quality Animatronic Insects
1.Size: life size or customized
2.Price:US$1000~4000/piece

3.Min.Order Quantity:1 piece

4.Lead time:20 days or depends on order quantity

5.Power:110/220V, AC, 200-800W.

6.Color:Any color is available.Customers can customize all kinds of animals

Note:All the insects models can be customized according to your requirements. Inquire now to see how we can help with your project.

Main Materials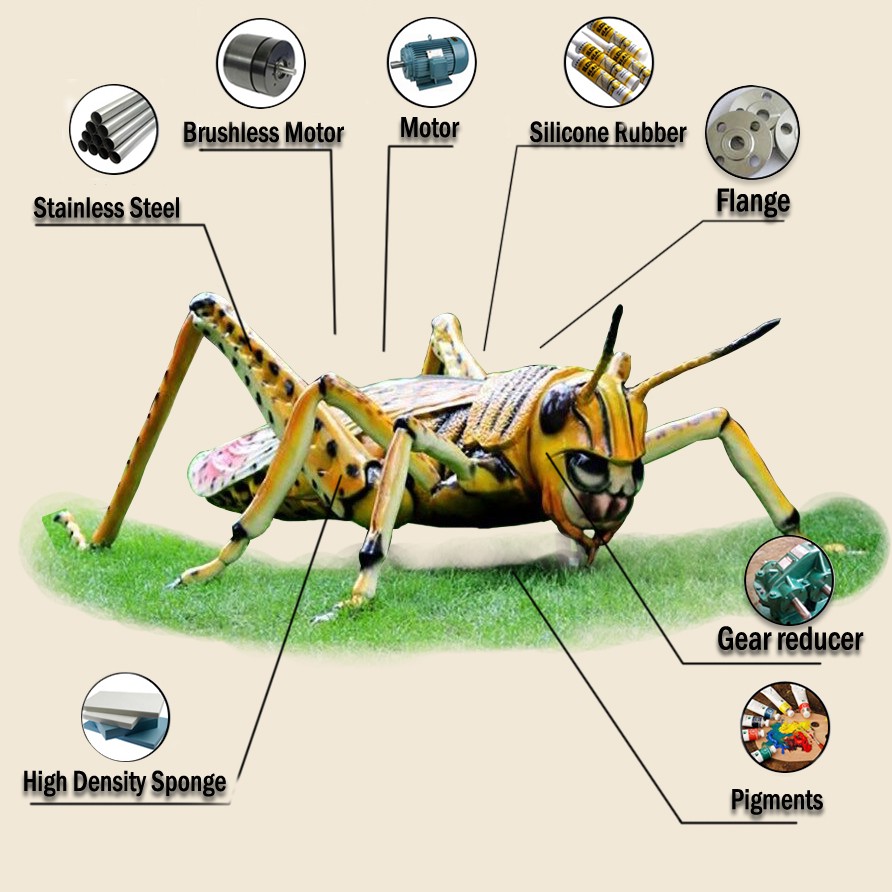 Main materials:
1.Stainless steel frame
2.CE proved brush or brushless motors
3.High quality Silicone Rubber
4.High Density sponge
5.hand drawings
Note:All our Insects' materials have the necessary corresponding certificates, such as CE, UL, ISO9001:2008, and reached excellent environmental protecting standards.we can also choose the new materials according to your requirements.
Accessories
1.Control box in rockery

2.Infrared Sensors
3.Speaker in rockery
4.Fiberglass rockery
5.Plug(for different countries)
6.Introduction
7.Fuse box(backup at horizontal position)
These are our main accessories. we can also provide other accessories according to your requirements, such as :coin box, artificial trees,led lights,background painting and much more!
Usage
Attraction and promotion:1.amusement park ,2.theme park,3.museum ,4.playground,5.city plaza ,6.shopping mall,7.other indoor /outdoor venues.
Certificate:
:
FAQ
1.Q: What can we do for you?
A: We are professional manufacturer of all kinds of Animatronic Products, such as Life Size Dinosaurs, every sorts of Animals. Demension can be 2mts --- 30mts long.


2.Q: What movements can they perform?
A:Movements including: Eyes Blinking, Mouth Open and Close, Head left to Right, Neck Rolling, Breathing, Tail Moving etc.... with alive roaring sound and realistic look! Just like real ones.......


3.Q: Can they operate well outside in the Rain and Sunshine?
A:Actually, YES! As we've already done many many experiments about this issue, the Conclusion is: still can work well. For we have special materials on the skin of the Dinosaurs, which pretect them from water, sunshine etc....
4.Q:Can you produce any kinds of dinosaurs /animals?

A:Yes!If you can not find your preferred dinosaur/animals style, you can Email us dinosaur/animals that you are interested in! Based on over 10 years technology & Experience,we can provide any kind of dinosaurs/animals at any size ,any appearance....

5.How can we place the order?
A:Please Email us your preferred item No. Quotation will be offered ASAP.