Realistic Dinosaur costume is a full-body costume,which is the appearance of a dinosaur. These dinosaur costumes are worn by performers at various events, Halloween show,theme park show,birthday party and others venues.Usually there are 2 kinds of dinosaur costume:hidden legs and visible legs.They can be devided into 2 kinds if from operator number point:one-person dinosaur costume (T-Rex costume)and two-persons dinosaur costume(triceraptops costume).One more devide way :fabric dinosaur costume (lighter)and silicone rubber dinosaur costume (more heavier)
Dino Walk provide realistic dinosaur costumes, dragon costumes, animals costumes ,gorilla costume and other customized costumes, we have created costumes of T-Rex, raptor, triceratops, spinosaurus, dilophosaurus, lion, dragon,and new developed walking dinosaur costume riders for parks, events, and parties. If you are looking for Animal Costume Suppliers, welcome to contact us.

You Can See the Realistic Dinosaur costume in

● Theme Parks

● Movie Theaters
● Playgrounds
● Shopping Malls
● Restaurants
● Festival Events
● Cosplay Parties
● Birthday Parties
We provide custom service for every customer from costume frame structure to the colors and texture of the skin. Our goal is to give every performer the best operating experience. Contact us for the latest price, all the costumes support global shipment and flight case packing.

FAQ
1. What is dinosaur costume size and weight?
Usual dinosaur costume is 4 meters curve length and around 1.8-2 meters height,the fabric type dinosaur costume is around 21KG.The silicone rubber dinosaur costume is around 24KG.
2. What are dinosaur costume materials?
Our realistic dinosaur costume are made from stainless steel,high density foam and silicone rubber or fabric.
3. How do you packing the dinosaur costume?
We use bubble film to packing dinosaur costume first then put it into wooden box,the packing size is:2.44m*1.06m*1.06m=2.7cbm.The gross weight are around 120KG.
4.What accessory is included for dinosaur costume?
Steel standing,camera,monitor,fan,speaker,battery,battery charge,and some necessary repair materials.
5.How tall should be the operator to be able to wear the dinosaur costume?
Our realistic dinosaur costume is suitable for 1.6-1.85m height performer,usually the dinosaur costume is customized based on performer's height.
Dinosaur costume Application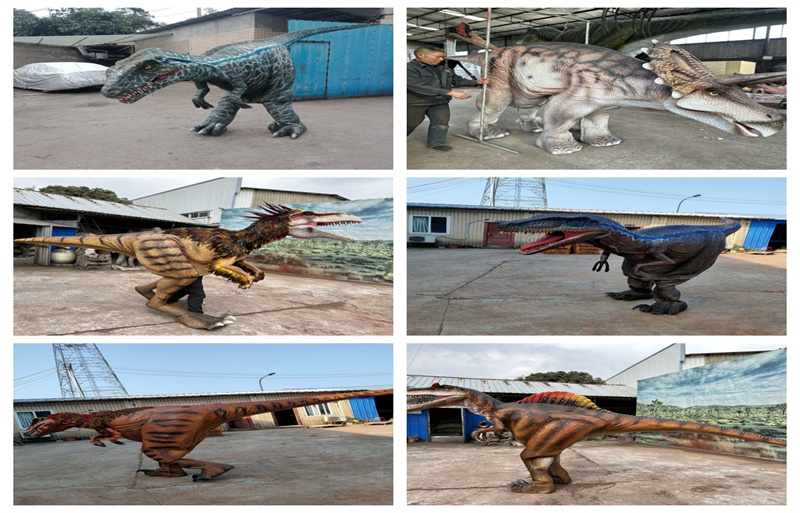 We'd Love to Hear from You
Whether you'd like to get more info on what, why and how we do what we do, need help with what you're creating, would like to partner up or just say hi! --- we'd love to hear from you.