Realistic Dinosaur Costume with Hidden Legs
Step into the world of prehistoric wonders with our Realistic Dinosaur Costume with Hidden Legs – a remarkable fusion of authenticity, mobility, and amazement! Prepare to astonish and captivate audiences of all ages with this lifelike dinosaur costume.
Our dinosaur costume boasts an innovative hidden legs design, creating an astonishing illusion that the wearer's legs disappear inside the dinosaur's body. This cutting-edge feature enhances the realism, allowing the performer to move freely and convincingly, captivating audiences with every step.
Realistic Raptor Costume
Movements:
1. mouth open and close with sounds
2. eyes blink
3. head up and down, left to right
4. neck up and down, left to right
5. walking like a real dinosaur
6. tail sway
More movements will be made according to the operator's action.
High-Quality Real dinosaur costumes/realistic raptor costume
1.Size:4m to 5m in length, the height of the costume can be customized from 1.7m to 2m according to the performer's height(1.65m to 2.1m).
2.Weight:18~20kg
3. Price:US$1999~2300/piece

4.Min.Order Quantity:1 piece

5. Lead time:20 days or depends on order quantity

6.Power:110/220V.

7. Color: Any color is available. Customers can customize all kinds of animals

Note: All the dinosaur costumes can be customized according to your requirements. Inquire now to see how we can help with your project.

Main Materials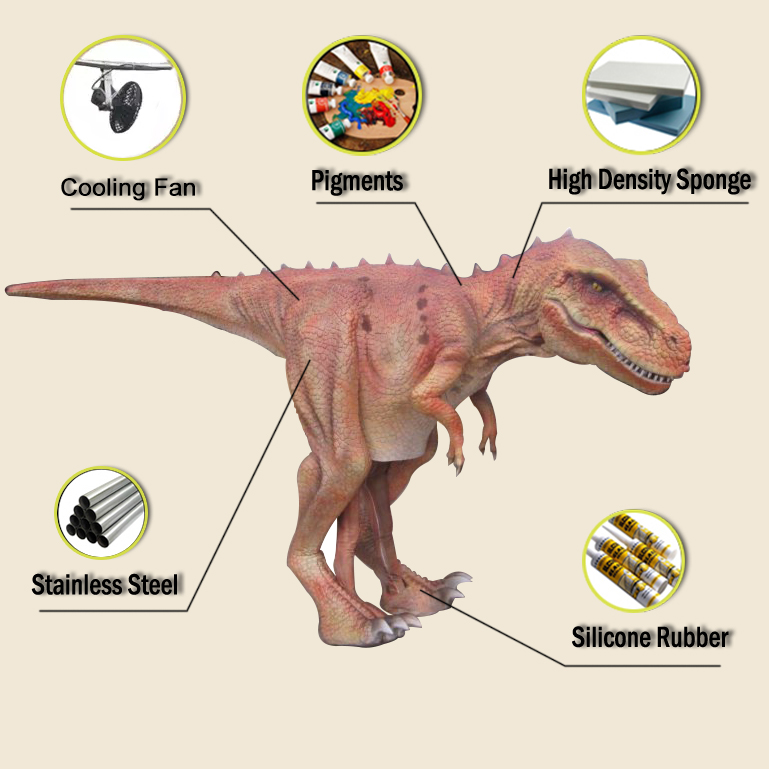 Main materials:
1. Stainless steel frame
2. High-quality Silicone Rubber
3. High-Density sponge
4. hand drawings

5. fan, speaker, screen, camera
Note: All our dinosaur costumes' materials have the necessary corresponding certificates, such as CE, UL, and ISO9001:2008, and reached excellent environmental protection standards. we can also choose the new materials according to your requirements.
Accessories
1. cooling fan

2. speaker and camera
3. LCD Screen
4. battery
5. control handle
These are our main accessories. we can also provide other accessories according to your requirements, such as a coin box, artificial trees, led lights, background painting and much more!
Usage
Attraction and promotion:1.amusement park ,2.theme park,3.museum ,4.playground,5.city plaza ,6.shopping mall,7.other indoor /outdoor venues.

Packaging & Features:
Bubble film and PP film with foam protection especially the head and mouth, and put in a flight case or wooden case.

Update Features:
1. Lightweight: It is an improved frame structure, and quite different material of skin, making the weight lighter at least 10kg.
2. Flexibility: The head movements are more vivid and flexible. Performers can wear it much longer than they used to, and do more interaction with the audience.
3. Lifelike color: The skin of the new material can be designed and processed more realistically and vividly manually.
4. Advanced material: The skin will be more durable, breathable, and environmentally without any peculiar smell.
Lifelike Dinosaur Costume:
Our Realistic Raptor Costume is a marvel of craftsmanship and attention to detail. Every scale, every contour, and every movement has been meticulously designed to replicate the look and feel of a genuine dinosaur. From the lifelike texture of the skin to the fierce gaze of the eyes, this costume is a testament to the artistry and dedication behind its creation.
What sets our Realistic Dinosaur Costume apart is its hidden legs feature. With the legs cleverly concealed, the wearer appears to be walking on two hind legs, just like a real dinosaur. This ingenious design element enhances the illusion of authenticity, captivating spectators and transporting them back in time to when dinosaurs roamed the Earth.
The lifelike nature of our Realistic Raptor Costume is sure to leave a lasting impression on any event or occasion. Whether you're organizing a themed party, a museum exhibition, or a theatrical production, this costume will undoubtedly be the star attraction. Watch as jaws drop and hearts race when the lifelike dinosaur enters the scene, commanding attention and sparking awe in all who witness its presence.
Crafted with comfort and usability in mind, our Realistic Dinosaur Costume ensures that the wearer can move freely and naturally. Despite its lifelike appearance, the costume is lightweight and breathable, allowing for hours of comfortable wear. Its sturdy construction guarantees durability, ensuring that this remarkable creation will continue to awe audiences for years to come.
Don't miss the opportunity to bring the magic of the prehistoric world to life with our Realistic Raptor Costume with Hidden Legs. Whether you're an event organizer, a performer, or simply someone who appreciates the marvels of the ancient past, this costume is a must-have. Transport yourself and others to a time long gone and create memories that will last a lifetime.
Experience the thrill of encountering a lifelike dinosaur up close and personal. With our Realistic Dinosaur Costume, the adventure begins now!
Certificate:
FAQ:
Q: What is a Realistic Raptor Costume?
A: A Realistic Raptor Costume is a highly detailed and meticulously crafted costume designed to resemble a raptor or other dinosaur species. It is created with lifelike features, such as realistic textures, colors, and movements, to replicate the appearance of an actual dinosaur.
Q: How is the Lifelike Dinosaur Costume made?
A: The Lifelike Dinosaur Costume is made using a combination of high-quality materials, advanced sculpting techniques, and skilled craftsmanship. The costume typically consists of a durable framework, realistic skin texture, animatronic elements for movement, and high-quality paintwork to achieve the most authentic and lifelike look possible.
Q: Can the wearer see and breathe properly in the Realistic Raptor Costume?
A: Yes, utmost care is taken to ensure the comfort and safety of the wearer. The costume is designed with carefully positioned eye openings that provide adequate visibility for the wearer. Additionally, the costume is equipped with proper ventilation to allow for easy breathing, ensuring a comfortable and enjoyable experience.
Q: How easy is it to move in the Lifelike Dinosaur Costume?
A: While the Realistic Raptor Costume is designed to be highly realistic, it also prioritizes mobility and ease of movement for the wearer. The construction of the costume allows for comfortable walking, running, and performing various actions, enabling the wearer to bring the dinosaur character to life with fluid movements and agility.
Q: Where can the Realistic Raptor Costume be used?
A: The Realistic Raptor Costume is versatile and can be used in a variety of settings. It is often seen at theme parks, museums, exhibitions, theatrical productions, parties, and other entertainment events. Its lifelike appearance and interactive nature make it a captivating attraction that can leave a lasting impression on audiences of all ages.
Q: Is the Lifelike Dinosaur Costume available in different sizes?
A: Yes, the Lifelike Dinosaur Costume is typically available in different sizes to accommodate various wearers. It is essential to select the appropriate size to ensure a comfortable fit and optimal performance. Custom sizing options may also be available for specific requirements.