Amusement Photo Taking Fiberglass Dinosaur Head for Sale
Amusement Photo Taking Fiberglass Dinosaur Head for Sale
The Amusement Photo Taking Fiberglass Dinosaur Head is not only a source of entertainment but also an educational tool. As visitors pose for photos, they will be immersed in the world of dinosaurs, sparking their imagination and fostering a deeper appreciation for these magnificent creatures.
Transform your venue into an unforgettable destination with our Amusement Photo Taking Fiberglass Dinosaur Head. Let it serve as a captivating centerpiece, drawing in visitors and creating a buzz of excitement.
Movements:

no movement
Main Materials:
Steel frame, Soil,plastic,Fiberglass,Resin,Wax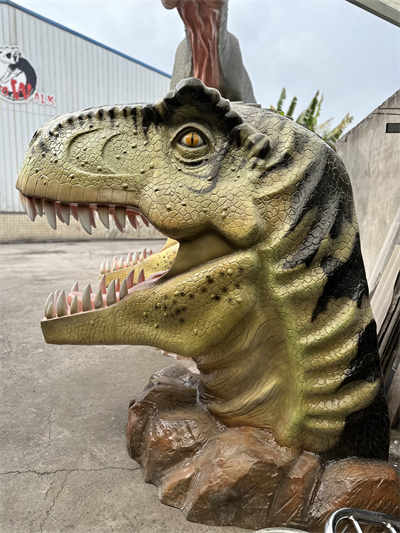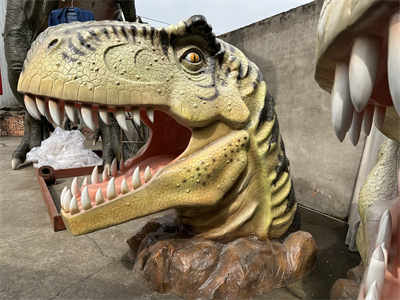 Surface:
Waterproof, Snowproof, Sunproof.
Durability:
1.Temperature: adapt to a temperature of -20° C to 40 ° C.
2.Weather: Waterproof, Sunproof, Snowproof and extreme weather.
Size::
Certificate:
Color:
Any color is available
Customers can customize all kinds of animatronic dinosaurs model
Usage:
Attraction and promotion.(amusement park,theme park,museum,playground, city plaza,shopping mall and other indoor /outdoor venues.)
Packing&Shipping:
Packing:
Bubble bags protect dinosaurs from damaging. PP film fix the bubble bags. Each dinosaur will be packed carefully and focus on protecting eyes and mouth.
Shipping:
Shenzhen, Chongqing, Shanghai, Qingdao, Guangzhou,etc. We accept land, air, sea transport and international multimodal transport.