Dino Walk is a leading manufacturer and supplier of fiberglass dinosaurs, offering a wide range of high-quality products for dinosaur enthusiasts and businesses alike. Our fiberglass dinosaurs are carefully crafted to capture the essence of these magnificent creatures, bringing them to life in stunning detail.
One of our unique offerings is our dinosaur shape fiberglass trash cans, which combine functionality with a fun and playful design. These trash cans are perfect for parks, playgrounds, and other public spaces, adding an exciting touch to any environment while also serving a practical purpose.

In addition to our trash cans, we also offer delicate dinosaur fossil head models that are perfect for museums, educational institutions, or collectors. These models are created using high-quality materials and cutting-edge techniques, ensuring that they are both accurate and visually striking.

Our fiberglass dinosaur models are also incredibly popular, with a wide range of sizes and species to choose from. Whether you're looking for a life-sized T-Rex or a smaller Velociraptor, our models are designed to impress and captivate. And with our commitment to quality and attention to detail, you can rest assured that you're getting the very best.

As a trusted fiberglass dinosaur supplier and manufacturer, we pride ourselves on providing exceptional customer service and support. Whether you're looking for a custom order or simply need help choosing the perfect dinosaur for your needs, our team is here to help.
In summary, Dino Walk is your go-to source for all things fiberglass dinosaurs. From trash cans to models to fossil heads, we offer a wide range of products that are sure to delight and inspire. Contact us today to learn more about our offerings and how we can help bring the magic of dinosaurs to your space.
Fiberglass Dinosaur Application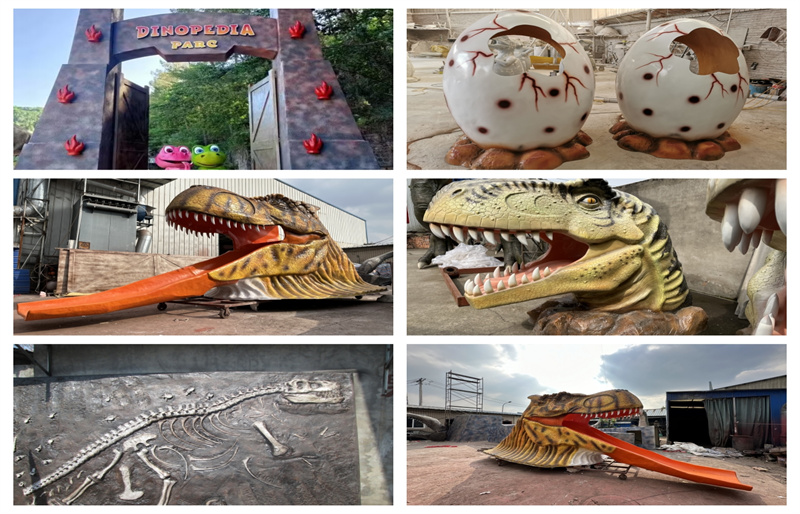 FAQ
1.What is the fiberglass dinosaurs main materials?
The fiberglass animal models main materials are advance resin and fiberglass.
2.Does fiberglass dinosaurs move?
No,it is static.
3.Is fiberglass dinosaurs model water-proof?
Yes,fiberglass dinosaurs models are water-proof,sun-proof,and snow-proof.
4.What is fiberglass dinosaurs production process?
First step is to design according to clients requirements.Second,Workers begin make shapes according to the design.Third,modeling the products.Finally,workers paints color according to the designs.
5.Can we customize the fiberglass dinosaurs or add logo?
Yes,you can send you design and logo for customization.
We'd Love to Hear from You
Whether you'd like to get more info on what, why and how we do what we do, need help with what you're creating, would like to partner up or just say hi! --- we'd love to hear from you.