Guide To Buying Fiberglass Animals
Fiberglass animals are a popular decor item for both indoor and outdoor spaces. They are lightweight, durable, and can be molded into a variety of shapes and sizes. If you are interested in purchasing fiberglass animals, there are several things you should consider to ensure you get the best value for your money. In this guide, we will walk you through the most important factors to consider when buying fiberglass animals.

Purpose
The first thing to consider when buying fiberglass animals is the purpose for which you are buying them. Do you want them for indoor or outdoor decoration? Are you planning to use them as a display in a store or a restaurant? Are you looking for a particular animal or a specific theme? Knowing the purpose will help you narrow down your options and choose the best fiberglass animals for your needs.
Size
The size of the fiberglass animal is also an important consideration. Fiberglass animals come in a variety of sizes, from small tabletop figurines to life-size sculptures. Consider the size of the space where you plan to display the animal and choose a size that will fit comfortably without overwhelming the space. You should also consider the weight of the fiberglass animal, especially if you plan to move it around frequently.
1.5 Meters Tall Doraemon Fiberglass Outdoor Decoration Statue
Quality
The quality of the fiberglass animal is also an important factor to consider. A high-quality fiberglass animal will have a smooth, uniform surface with no visible seams or imperfections. The paint should be evenly applied and free from streaks or smudges. Look for animals that are made with high-quality materials and are designed to withstand the elements if you plan to use them outdoors.
Price
Fiberglass animals can vary in price depending on their size, quality, and complexity. Before you start shopping, set a budget for how much you are willing to spend. Keep in mind that higher-quality animals will often cost more, but they will also last longer and look better over time. Consider the long-term value of the animal before making a purchase.
Shipping and Delivery
If you are purchasing fiberglass animals online, be sure to factor in the cost of shipping and delivery. Fiberglass animals can be heavy and bulky, so shipping costs can add up quickly. Look for retailers who offer free or discounted shipping, or consider purchasing from a local supplier to save on shipping costs.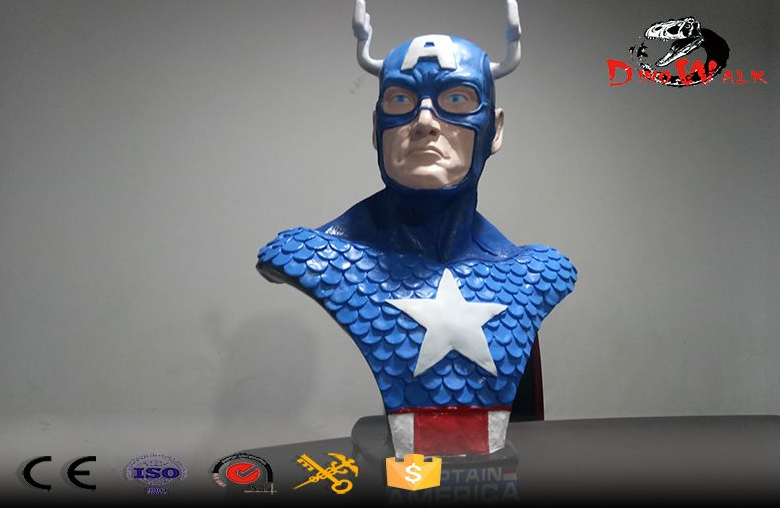 Captain America Sculpture Display
Customer Reviews
Before making a purchase, read customer reviews to see what others have to say about the fiberglass animals you are considering. Look for reviews that mention the quality of the animal, the accuracy of the description and photos, and the level of customer service provided by the retailer. Avoid purchasing from retailers with a high number of negative reviews or complaints about their products or service.
Return Policy
Make sure you understand the retailer's return policy before making a purchase. If the fiberglass animal arrives damaged or does not meet your expectations, you will want to know how to return it for a refund or exchange. Look for retailers with a clear and easy-to-understand return policy to avoid any confusion or frustration.
Maintenance
Fiberglass animals require very little maintenance, but it is important to know how to care for them to keep them looking their best. Avoid using harsh chemicals or abrasive cleaners on the surface of the animal, as this can damage the finish. Instead, use a soft cloth and mild soap to clean the animal as needed. If you plan to use the animal outdoors, make sure it is properly anchored or secured to prevent it from tipping over in high winds.
DinoWalk is a professional manufacturer & exporter of Animatronic Life Size Dinosaurs, Fiberglass Animals statues, Animatronic Dinosaur Rides, Realistic Dinosaur Costumes as well as Dinosaur Skeleton Replica.
We can provide all kinds of dinosaurs, animals whatever you need. If you are interested in any of our items or would like to discuss a custom order, please feel free to contact us for further information.