Amusement Park Fiberglass Dinosaur Slide for Sale
Amusement Park Fiberglass Dinosaur Slide for Sale
Embark on a thrilling journey back in time with our Amusement Park Fiberglass Dinosaur Slide for Sale!
Imagine the joy and excitement on the faces of children and adults alike as they race down this incredible slide, surrounded by lifelike dinosaurs. Our meticulously crafted fiberglass dinosaur slide brings the prehistoric world to life in a way that will ignite the imagination and create unforgettable memories.
Designed with both safety and adventure in mind, our dinosaur slide is a perfect addition to any amusement park or entertainment venue. Climb to the top of the towering structure, and feel the anticipation building as you gaze upon the vibrant, hand-painted dinosaurs that adorn the slide. With each twist and turn, riders will be transported to a land where dinosaurs once roamed, experiencing the exhilaration of a thrilling descent.
Movements:
no movement
Main Materials:
Steel frame, Soil,plastic,Fiberglass,Resin,Wax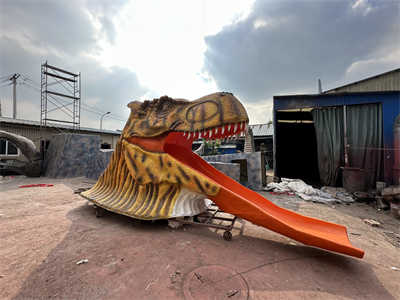 Surface:
Waterproof, Snowproof, Sunproof.
Durability:
1.Temperature: adapt to a temperature of -20° C to 40 ° C.
2.Weather: Waterproof, Sunproof, Snowproof and extreme weather.
Size:
Certificate:
Color:
Any color is available
Customers can customize all kinds of animatronic dinosaurs
Usage:
Attraction and promotion.(amusement park,theme park,museum,playground, city plaza,shopping mall and other indoor /outdoor venues.
Packing&Shipping:
Packing:
Bubble bags protect dinosaurs from damaging. PP film fix the bubble bags. Each dinosaur will be packed carefully and focus on protecting eyes and mouth.
Shipping:
Shenzhen, Chongqing, Shanghai, Qingdao, Guangzhou,etc. We accept land, air, sea transport and international multimodal transport.