Why Dinosaur Suit Is So Popular?
A dinosaur suit is a costume character or creature suit that resembles a dinosaur. Dinosaur suits are also called dinosaur suits. For decades, this costume has been used in movies and television and as a mascot, reflecting the prominence of dinosaurs in the arts and entertainment. Usually, the operator uses two pull-cord handles to control movement. After the success of their counterparts with dinosaurs, realistic dinosaur suits are also popular in live performances - The Arena Spectacular. Experienced performers can make lifelike movements with dinosaur costumes. They are also used in educational settings in theme parks and various museums.
Dinosaur suits first appeared in early monster movies, such as Gorgo (1961), which featured a T-Rex-like monster. They continued to be used in films such as Babies: The Secret of the Lost Legends (1985), which used an electronic brontosaurus suit with a radio-controlled head, and in television series such as Dinosaur (1991), one with a dinosaur family.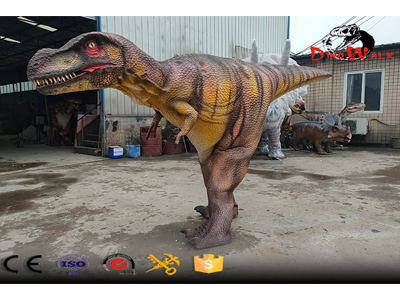 Best Price Hidden Legs T-rex Suit
The movie Jurassic Park (1993) used dinosaur suits for some creatures, such as Velociraptor and Dinosaur. In modern movies such as Jurassic World (2015), this was done using CGI. In children's television, Barney, an anthropomorphic purple dinosaur, was in the show Barney & Friends with other dinosaurs that became widely known in pop culture.
Main materials of best price hidden legs T-rex suit
1. Stainless steel frame
2. High-quality Silicone Rubber
3. High-Density sponge
4. Hand drawings
5. Fan, speaker, screen, camera
Note: All our dinosaur costumes' materials have the necessary corresponding certificates, such as CE, UL, ISO9001:2008, and reached excellently We can also choose the new materials according to your requirements.
If you want to get more information about the best dinosaur costume wholesale, welcome to contact us today or request a quote.