Get Your Hands on the Most Realistic Animatronic Animals for Sale
Animatronic animal is a realistic replica of animals.All disapperance and existent animal models can be produced.Animal models size can range from small to large.There animatronic animals are most used in museums,zoos,theme park and shopping mall.All animals can be customized based on your requirements.
If you're looking to add a touch of magic and wonder to your life, look no further than Dino Walk's collection of animatronic animals. As a leading manufacturer of animal animatronics, we offer a vast selection of lifelike creatures that will transport you to a world of imagination and fantasy.
At Dino Walk, we take great pride in creating animatronic animals that are as realistic as possible. Our skilled artisans use the latest technology to design and build creatures that move and behave just like their real-life counterparts. From the fierce Saber Tooth Tiger Ice Age to the gentle Polar Bear size, we have something for everyone.Customize My Special One!

One of our most popular animatronic animals for sale is the Ice Age Tiger. This magnificent creature is a fan-favorite from the popular Ice Age movie franchise and is sure to be a hit with visitors of all ages. With its striking orange and black stripes and piercing eyes, the Tiger from Ice Age is a stunning addition to any collection.

If you're looking for something a little more exotic, we also offer a range of Snake Animatronics. Our lifelike serpents are sure to give you a shiver down your spine, with their intricate scales and slithering movements.

Of course, no collection of animal animatronics would be complete without a classic Tiger Animatronic. Our Tigers are available in a range of sizes and styles, from the majestic Bengal Tiger to the ferocious Tiger Ice Age. Each one is painstakingly crafted to capture the beauty and power of this incredible creature.

So why wait? If you're looking for animatronic animals for sale, look no further than Dino Walk. Our collection of lifelike creatures is sure to delight and inspire, no matter what your age or interests.

Animatronic Animals Parameters
Size: From 1m to 20 m long, other size is also available.
Net Weight: Determined by the size of the animal (eg: 1 set 3m long tiger weighs close to 80kg).
Color: Any color is available.
Accessories: Control cox, Speaker, Fiberglass rock, Infrared sensor, etc.
Lead Time:15-30 days or depends on quantity after payment.
After Service: 24 Months after installation.
Control Mode: Infrared sensor, Remote control, Token coin operated, Button, Touch sensing, Automatic, Customized, etc.
Position: Hanging in the air, Fixed to the wall, Display on the ground, Placed in water(Waterproof and durable: the whole sealing process design, can work underwater).
Shipping: We accept land, air, sea transport, and international multimodal transport. Land+sea(cost-effective) Air(transport timeliness and stability).
Notice: Slight differences between the objects and the pictures because of hand-made products.
Movements:1. Mouth open and close synchronized with sound.2. Eyes blink. (LCD display/mechanical blink action)3. Neck up and down-left to right.4. Head up and down-left to right.5. Forelimbs move.6. Chest raises/falls to mimic breathing.7. Tail sway.8. Water spray.9. Smoke spray.10. Tongue moves in and out.
Animatronic Animal Application
Animatronic Animals are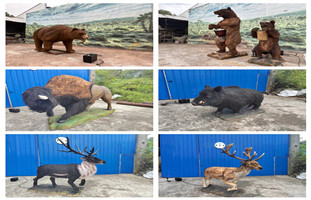 suitable for various occasions, such as Insect parks, Zoo parks, Theme parks, Amusement parks, Restaurants, Business activities, Real estate opening ceremonies, Playground, Shopping malls, Educational equipment, Festival exhibition, Museum exhibition, City plaza, etc.
FAQ about Animatronic Animals
1. What are the animatronic animals materials?
Standard steel,high density sponge,motors, silicone rubber and artificial fur.
2. What accessory is included for animatronic animal models?
Fiberglass rain cover,control box,infrared sensor,speaker.
3. Should I assemble animatronic animals models?
The container height is 2.6m,it should be disassemble for transportation if animals models height beyond 2.6m,we have to cut animal models in pieces for loading into container.We can guide you by video call about how to install animals models.Or we can send our professional installation team to your country if you order many animals large animals models.
4. What is minimum order quantity?
1 piece.
5.Is the animatronic animal models voltage adopt to my country electric power?
Yes,the voltage will be customized based on your country eletric power.
We'd Love to Hear from You
Whether you'd like to get more info on what, why and how we do what we do, need help with what you're creating, would like to partner up or just say hi! --- we'd love to hear from you.